Concept
"Weaving the good-old life"
The idea started from the thought of experiencing the deliciousness of rice cooked in the kamado, a practice that has been passed down from generation to generation in the former Nakamura residence, and to experience the good-old life as it was.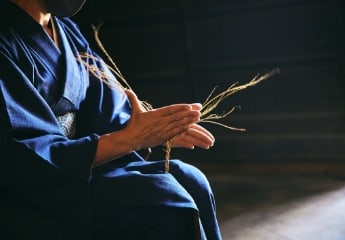 Visitors can enjoy an old-fashioned Japanese meal and experience traditional Japanese life, such as making wara-zori(straw sandals). The old folk house, which was built over 220 years ago, using traditional Japanese construction techniques and the furnishings of that time remains as it is. You can also take a guide to them.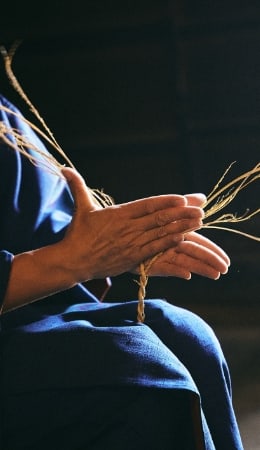 About okudoNAKAMURAYA
Okudo NAKAMURAYA is a traditional residence built 220 years ago using traditional Japanese construction methods.
Okudo NAKAMURAYA features a traditional "ta-no-ji" design(a floor layout with the shape of the Chinese character 田): a product of the wisdom of old people that allowed them to stay cool even in the summer by keeping the house well-ventilated. In the Kansai region of Japan, "Kamado" is called "Okudo", which means the god of the kitchen. The origin of okudo NAKAMURAYA lies in the offering of gratitude to that spirit.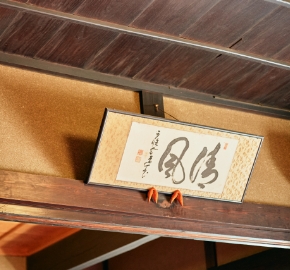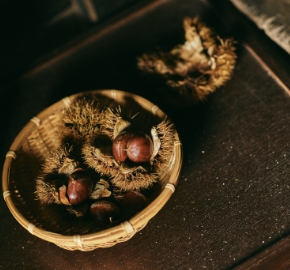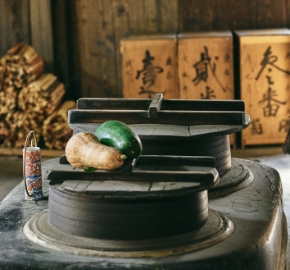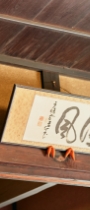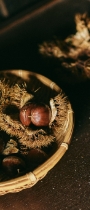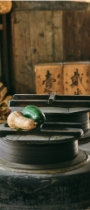 About Inabe city
Inabe City, where okudo NAKAMURAYA is located, is in the far northwestern corner of Mie Prefecture, along the border with Gifu and Shiga prefectures. It is easily accessible, and can be reached in less than an hour by car from Nagoya, one and a half hours by car from Ise Jingu, and less than two hours by car from Kyoto.
Inabe City is a small city with a population of 44,000 and is situated in peaceful countryside surrounded by the Suzuka Mountains and rice fields. It is blessed with a natural environment where the air and water are clean and fireflies fly in summer. In addition, flowers of four seasons bloom throughout the year, and through which, you can feel the changes of the seasons.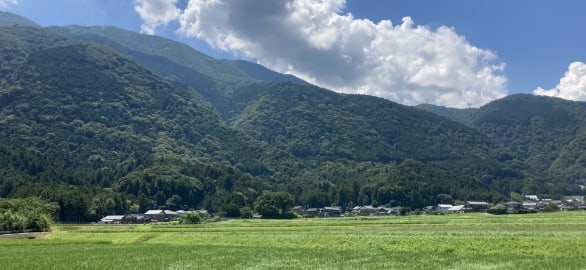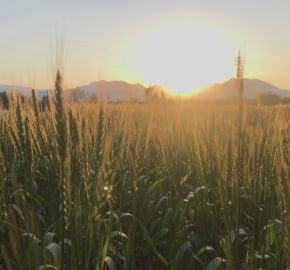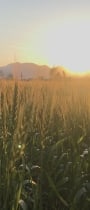 Service
At okudo NAKAMURAYA, you can experience aspects of traditional Japanese life including Kamado-Gozen(meal with rice cooked in the Kamado). We can also facilitate your pre-wedding photoshoots and even your wedding ceremony.
Experience
At okudo NAKAMURAYA, we cherish the idea of "experiencing traditional Japanese life". With the opportunity to have the elderly who live around okudo NAKAMURAYA teach us how to cook delicious rice in a kamado, along with other traditional meal, and how to make wara-zori(straw sandals), we can inherit the traditional techniques and wisdom they possess.
Kamado cooking experience
The experience of cooking rice in the kamado at okudo NAKAMURAYA. Light the wood with a match and cook the rice with a bamboo blowpipe. Savor this precious time surrounded by the scent of rice and fire, and the crackling sound of burning wood. Enjoy the richness of a traditional Japanese meal with all five of your senses.
Experience fee: rice-ball + 3500 yen per person (We do not provide the Kamado cooking experience alone)
Kamado cooking experience time: 10: 00 ~ (Time required: 1 hour)
Advance reservation required (Business days: Thursday, Friday, Saturday, Sunday, Monday)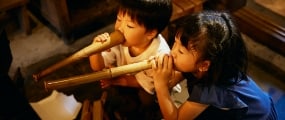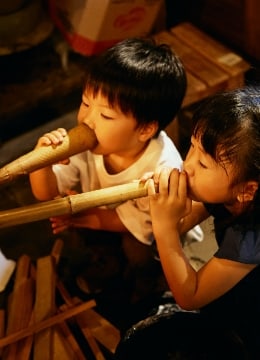 Restaurant
Lunch
You can enjoy your meal without reservation. Please feel free to drop by.
Lunch fee: 1,200 yen~
Reception time 11:00-16:00
Full-Corse
Enjoy Inabe's traditional home cooking: cooked rice produced in Inabe city in a kamado, soup made with homemade miso and soy sauce, sashimi with seasonal side dishes and tea. The ingredients are specially chosen to be suitable for four seasons. Free refills of rice and miso soup are available. Aside from the above menu, there are about 12 other dishes including desserts. We can also cater for food allergies and religious food cultures as much as possible. Please inform us of such in advance.
Lunch fee: Adults(matsu) 7,700 yen / Adults(take) 5,500 yen / Adults(ume) 3,300 yen / Children 1,600 yen (3 years old and above but under 10 years old)
Reception time 11:00~
Advance reservation system: You can make a reservation via web reservation or e-mail. (Business days: Thursday, Friday, Saturday, Sunday, Monday)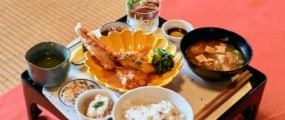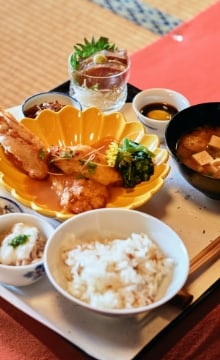 Basic information
Location

1040 Nishinojiri, Fujiwara-cho, Inabe City, Mie Prefecture 511-0516

TEL/FAX

0594-37-4014

Mail

okudonakamuraya@gmail.com

Business hours

Thursday, Friday, Saturday, Sunday, Monday, 11: 00-16: 00

Parking

lot available
(20 cars, 10 motorbikes / bicycles)

Nearest station

Sangi Railway's Nishinojiri Station (8 minutes' walk from the station)